Katrina is an experienced teacher and public speaker.
She offers a variety of 'Presentations and Workshops' which include a range of supporting activities.
Katrina is available for Book Readings and Launches, Kindergarten, School and Library Visits plus Speaking Engagements.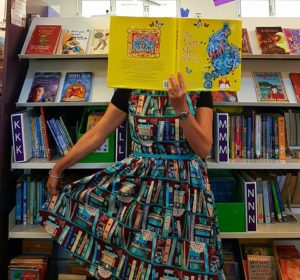 (Download Katrina's information flyer or the school incursion leaflet)
Author Visits (Kindergarten – Year 6)
During a 'Presentation', Katrina shares with students the 'Journey of a Book'.
She explains how a concept eventually becomes a book.
Topics covered include:
Self-Publishing
The Writing Process
Illustrators, Editors and Graphic Designers
ISBN's, Library Barcodes, CIP's
The Printing Process
Promoting, Marketing, Sales
Her career as an 'Author'
Katrina also shares published works and works in progress.
Writing Workshops
During a 'Writing Workshop', Katrina introduces students to her 'Recipe for Writing'.
She covers all aspects of the 'Writing Process' including:
Planning – Orientation, Complication, Resolution
Draft
Shape/Edit
Present/Publish/Share
Katrina discusses writing tips, inspiration, characters, word length, target audience, setting, theme, front cover, blurb, text and illustrations and so on.
She also shares original drafts, brainstorming notes and story boards/mock books for published works and works in progress.
Bookings
Bookings can be made on the form below.
Costs
$ 600 Whole School Day
$ 350 Half School Day
$ 250 per School Session
'Presentation' – 1 to 3 Classes
'Writing Workshop' – 1 Class
Suggested Timetable for 'Whole School Day Visit':
| Session Times | Year Level / Classes |
| --- | --- |
| 9.00 – 9.45 | Prep |
| 9.45 – 10.30 | Year 1, 2 |
| 11.00 – 11.45 | Year 3, 4 |
| 11.45 – 1.00 | Year 5 |
| 1.30 – 2.30 | Year 6 |